The garden is almost growing in front of your eyes at this time of year, each day presenting new flowering delights. This week, Turn End Trust volunteer Amanda picks her favourite plants:
Fritillaria imperialis 'Maxima Lutea' (Crown Imperial)
In the last throes of its regal splendour, this bulbous plant looks great standing head and shoulders above the surrounding blue bells and Hellebores in the spring garden. They provide splash of colour, lots of height and a very exotic feel for this time of year. They were much admired at our recent NGS open day.
The plants are native to a wide area including Turkey, Pakistan and the Himalayan foothills where they grow on cliffs and rocky slopes. Many cultivars have been bred in a range of colours for garden use including yellow 'Maxima Lutea', 'William Rex ' with bronzy-red bells and the new 'Rascal' earlier flowering and daintier range, including 'Chopin' with peachy-golden flowers.
The hollow-centred bulbs do best planted 4 times their depth on their sides to avoid wet sitting in their scales. Help drainage by planting bulbs surrounded by sharp sand. They like fertile, well drained soil in full sun but are happy in part shade. Plant in early autumn and as soon as you can after delivery. They don't like being disturbed once planted. Water well and feed with a high potassium feed in growth (tomato feed) but they like a dry rest in summer.
Slugs can be a problem on new growth, and fritillaries are also a popular springtime meal of lily beetle. Pollinating insects like them so try to avoid systemic pesticides that get into the plant's system and pick off the bright red beetles instead.
Trillium sessile 
Another star of the show at our open day was this striking perennial spring wild flower, native to the central part of the eastern United States. With the wonderful common names of toadshade or sessile-flowered wake-robin, it comes from rich woodlands and here enjoys the dappled shade and slightly moister soil under our ancient apple trees.
The maroon flowers have three petals which remain closed, sitting directly atop three marbled leaves.
Tulipa 'Ballerina'
This is a lily flowered type of tulip, with vase-shaped flowers and pointed petals. Flower petals are bright orangey-red edged with faintest gold. Place them to catch the sun behind them and they look like a flame against their bright green leaves.
Ballerina is one of the few scented tulips, smelling like sweet orange.
Plant late in the autumn, in November and even into December, when the ground is getting colder to kill off soil diseases. Plant 30cm deep – deep planting will help them to last longer in the garden. They don't like wet heavy soils, so if you have that try placing some gravel under the bulb. Even in our free draining soil they tend to get weaker after 3-4 years, when we dig them up, discard the bulbs and replace with new ones.
Geranium phaeum (Black Widow, Dusky Cranesbill)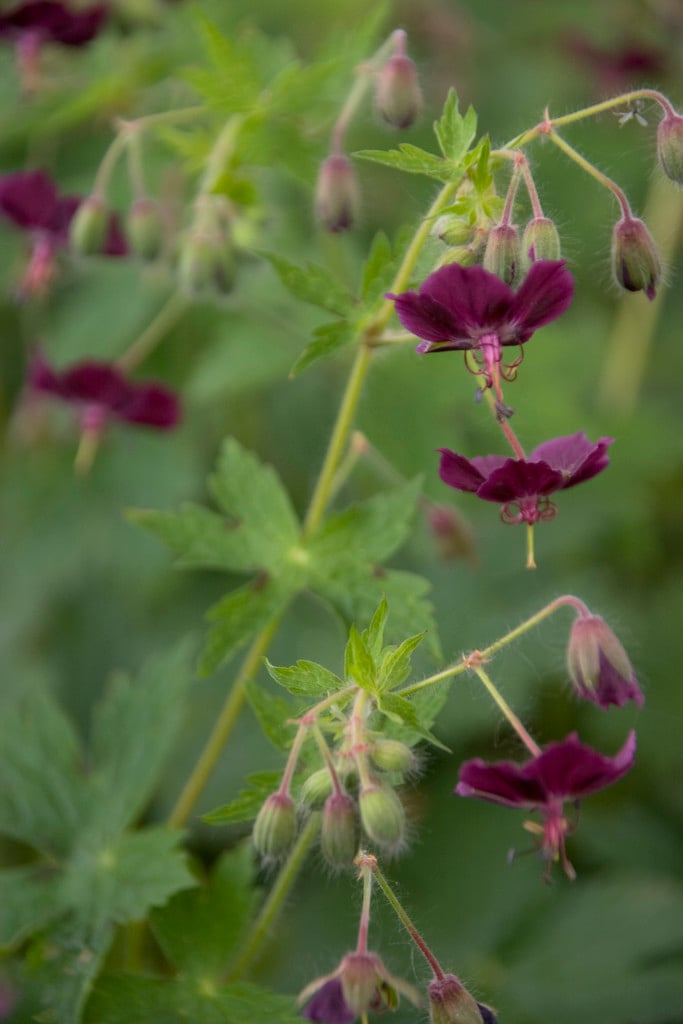 This grow-anywhere plant is a real gem. Tiny nodding dusky purple flowers teeter delicately over the soft mounds of foliage. We grow it here in dry shade under shrubs in the Daisy Garden and also in full baking sun in No Man's Garden. It thrives in both, where we use it to fill in gaps between fading spring bulbs and later summer flowering herbaceous perennials.
It flowers in late spring and early summer. After flowering, if it is looking a little straggly, cut back hard to encourage new fresh leaves and it may then flower again.